What's the Challenge?
Ultra HD surveillance cameras have been in production for some time now, but they were not immediately and widely applied because they require excessive transmission bandwidth and massive storage capacity. How to limit bitrate from ultra-HD video streams becomes a critical problem, determining the suitability of these cameras in your project.
The problem can be solved by using Hikvision's H.265+ encoding technology which employs about 32.4% of the bitrate of H.265 on average (according to Hikvision H.265+ Encoding Technology White Paper). As the bitrate of recorded footage is greatly reduced, bandwidth and storage costs are reduced as well.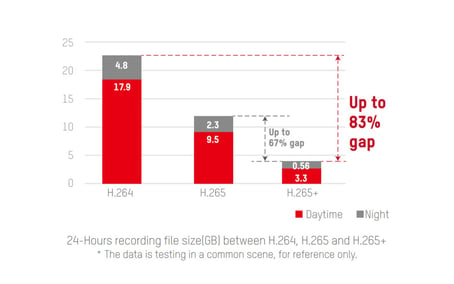 H.265+ is optimized for surveillance scenarios with the following features

- Background information stays stable and rarely changes.
- Moving objects, the main area of focus, appear only occasionally in a substantial portion of surveillance video footage.
- 24-hour non-stop surveillance is required.
H.265+ extends the applications of ultra HD surveillance cameras, such as 8 MP and 12 MP cameras.
Have a question? Feel free to contact us!
Related Article:
H.265+ Takes Video Surveillance to the 4K Era